Inshore:
It's been a HOT summer so far and appears we are in for lots more warm days ahead. Lots of days in the 90's to bake in the sun! Rains have been scattered lately for our area and it's still dry. Get out early or late in the day to beat the heat and have the best opportunities. Sunscreen and hydration is essential in this weather!
It has been a good week fishing for us. The bite has been early and tapers off by noon. Mangroves and grass flats have been most productive for us this week. Both DOA lures and live bait have given us some exciting action for anglers. Brian and Lucas were out and caught some nice trout and snapper after being broke off by four snook hanging under the mangroves. Charlie and Elden found the redfish hanging under the mangroves on their morning. Elden got broke off by four big reds that morning. We finished the day with snapper and sheepshead to round out a good morning. I was privileged to be part of St. Lucie County's Media Event this week. I had Glen Pla from Average Angler Adventures and his cameraman along with freelance writer Dustin Catrett on the boat to enjoy some Fort Pierce fishing action. Glen and Dustin caught redfish and snook while fishing along the mangroves with eight being landed and a few others that refused to come out of the roots. We moved to the grass flats with DOA CAL lures to look for a few trout. Dustin boated his trout just before we had to call it a day to complete his slam. Dave, Kathy, Quinn and Keaton were out on another beautiful morning. We caught lots of fish and the boys had fun, but couldn't catch dinner that day. We had fun anyway!
The fish are feeling the heat as much as we are. The water temps are in the mid 80's and the sun has been beating down on us. Look for mangroves, docks and deeper water that hold fish this time of year. Our trout have come from the drop offs around the grass flats and sand bars. Snook and redfish have been hanging under docks and mangroves for us. June is a great month to enjoy the fishing, but it's hot and you must use some different tactics to find the fish in these temperatures.
Remember, as always, fishing is not just another hobby……it's an ADVENTURE!
Good Fishing,
Captain Charlie Conner
www.fishtalescharter.com
captaincharlie@fishtalescharter.com
772-284-3852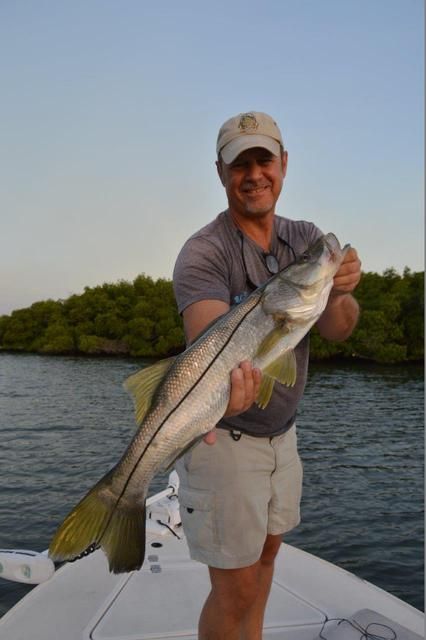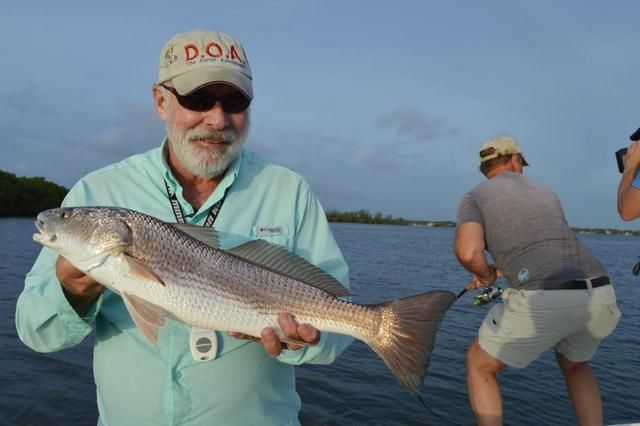 Photos courtesy of Dustin Catrett