Inshore:
Mother Nature continues to bring challenging weather to the Treasure Coast. Between the winds, cold and rain it's been tough most of the week to get out on the water. Water temperatures dropped 10 degrees in one day with the latest cold front to chill our area. Yesterday the water was a cool 56 - 60 degrees, but with some sunshine it will warm up quickly for us. It has been a tough winter so far and hopefully we won't get too much more of this.
The best bite on the river has continued to be sheepshead, black drum and redfish. We have been fishing docks frequently when the winds allow and having success with these fish. Most of the redfish will be at the small end of the slot this time of year, but that is this summers crop of slot fish. We have found some short snook hanging around the docks as well. DOA shrimp or live baits will find you some good bites. With the water cooled down for a few days, try the channels and inlets of the area. You can find lots of fish in the deeper water this time of year when the cold fronts hit us. The past several days my clients have caught snapper, grouper, sheepshead, pompano and a host of other species to keep their rods bent for them. Try jigging a CAL paddle tail with some sparkle in it when fishing these areas. The pompano are moving into the river as well as the bluefish. We should be seeing some good numbers of these fish as winter progresses along. There have also been some nice size Spanish mackerel in the turning basin this week.
We had a good week on the water in spite of what the weather offered. Bud and Tim caught a variety of fish on a cold water morning, including redfish, snook, sheepshead and drum. After four attempts, Keith, Cai, Turner and Frank made it out with me for an afternoon trip. They caught a variety of fish including a few redfish. Bjorn and his family was out on a cold, windy morning and they caught lots of fish. Sheepshead, snapper, pompano were just a few of the species that they caught on a fun trip. Dave and his family were back this year and had a nice morning to enjoy some great fishing. I had the girls and Ted on the boat. They caught so many fish that we lost count of them. Ted topped off the day with a double catch of a snapper and grouper. The grouper had decided to eat the snapper and Ted ended up with both fish on the same hook. He added a three foot bonnethead shark to end a super morning. We had a wonderful week on the water!
This winter has already been harsher than the past few seasons and you must remember to change your normal tactics this time of year. Water temperature plays a key role in whether you will catch fish or not. Weather will be a determining factor in where you fish and when you can fish. Winds have been strong on many days lately and you know we have winds throughout winter and spring each year so plan your trips carefully. Fishing deeper water will improve your chances of success on cold days. Fishing later in the day can also increase your odds. Fish will move into the shallow water as the sun shines bright to warm themselves up. I have had a lot of success on the flats in the middle of the day this time of year.
It is vital to dress for the occasion in winter. We have had days that the temperature will swing nearly forty degrees in a few hours and dressing in layers is important to be comfortable on the water. It's better to start with too much layers than get out there and shiver yourself silly. Plan your day carefully with the weather forecast. Have fun out there!
Remember, fishing is not just another hobby....it's an ADVENTURE!
Have a wonderful 2014!
Thanks and Good Fishing!
Captain Charlie Conner
www.fishtalescharter.com
captaincharlie@fishtalescharter.com
772-284-3852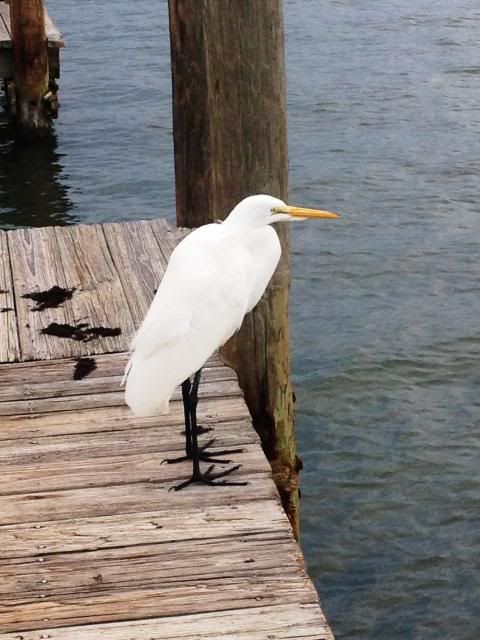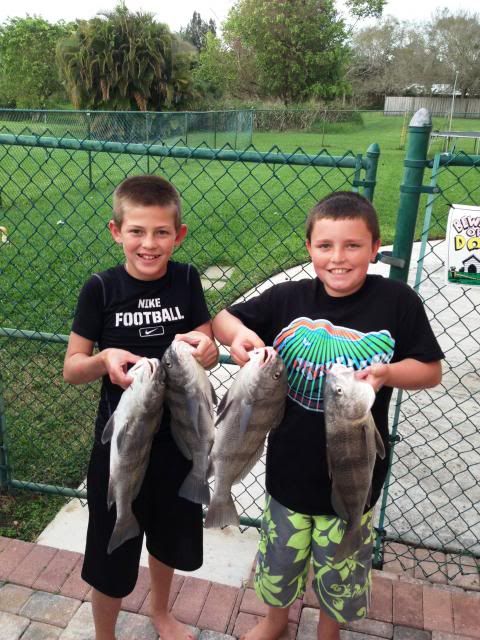 Jacob and Bryce Barber with some nice black drum caught on an outing with their dad, Shane Barber.